BCITO releases annual report & achievement highlights
We have pleasure in presenting BCITO's 2018 Annual Report. We have been working extremely hard to meet the construction industry's training needs during a period of insatiable demand for skilled construction workers.
In this report, we touch on many of the successes we have had across a whole range of areas; from the record number of active trainees; to strong growth in diversity; to the launch of myBCITO; to some great movement on the Government policy front that we had lobbied for including the introduction of micro-credentials; the review of the New Zealand Qualifications' Framework; the Government using its construction procurement practices to incentivise firms to train and others. Of course, the Reform of Vocational Education (RoVE) is high on everyone's agenda (notwithstanding it fell outside of 2018), but it proposes such a fundamental shift in how vocational education is delivered it cannot be ignored.
Irrespective of what RoVE brings we remain committed to developing innovative and creative ways to ensure training and skills development are fit for purpose and aligned with industry needs. We are investing heavily in promoting construction as a genuine career option and striving to grow the number of firms willing to train and attract more apprentices into the sector.
We hope you enjoy reading this report. We are proud of our accomplishments and highlight some of these in the document, as well as continuing to look ahead.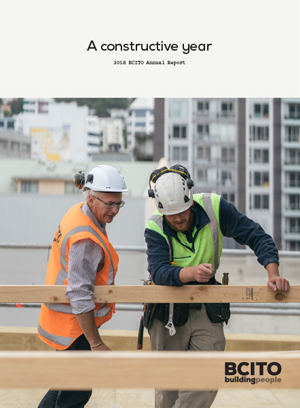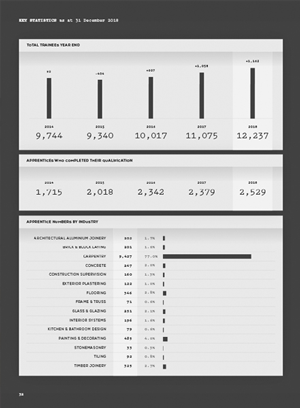 Aource: BCITO